Have you ever been planning a vacation – a time meant to be pleasurable and relaxing – only to find yourself stressed by the never-ending list of unknowns? Where to stay? What to see and do? And of course – when is the best time to go?

Thankfully, when it comes to visiting the Rocky Mountains, there is no bad time to visit. Every season offers unique views, activities and, of course, challenges. In order to give a comprehensive overview of what they are, we've broken it down into the Rockies' three main seasons: summer, winter, and the in-between season.
SUMMER SEASON (June-August)
Weather
Summertime is peak season in the Rocky Mountains. June to August typically offers long sunny days, warm weather, and minimal rain. By August, only the most stubborn snow clings to the mountain tops, and the roads are lined with blooming wildflowers.
However, in mid to late August, forest fires can be prevalent in the Rocky Mountains. Smoke from forest fires may impede mountain views and even cause health risks, depending on the severity of the fires. This factor is year-to-year dependent, so keep an eye on the status of the fires leading up to your trips and plan accordingly.
Activities
The summer months are optimal for all the outdoorsy activities the Rocky Mountains promise. Whether you enjoy hiking, camping, kayaking, or simply want to view the sites without added effort – the Rockies has something for everyone, and the summer promises many hours of sunshine to enjoy whatever activity you choose.
The peak season for the weather, however, also means it is the peak season for tourists. Thousands of visitors from all over the world flood the Rocky Mountains every summer, making both accommodations and attractions more crowded. We all want to enjoy the summer months while they're here, but if dodging selfie-sticks at Lake Louise isn't your thing, perhaps consider traveling in the off-season, or arrive early in the day to the most tourist-prone spots.
WINTER SEASON (November – March)
Weather
If you've ever wanted to feel what life inside a snow-globe might be like, the winter season in Banff is perfect for you. The soaring mountains blanketed with snow, trees shaking wet flakes from their branches and grey winter skies will awaken the inner-child in anyone. In Banff town, Christmas lights are strung from icy lamp posts and shops are decorated with Christmas crimson, leaving you feeling as though you're in a Norman Rockwell painting.
Nevertheless, snow is magical, but it is also dangerous. If you're travelling in the wintertime be prepared for possible road-closures or accidents. Drive carefully, and mind the weather warnings.
Activities
The Rockies towering peaks laden with fresh powder will have any skier or snowboarder itching to strap in and start shredding. The Rocky Mountains boasts world-class skiing resorts, such as Lake Louise Ski Resort or Blue River. If you don't ski, don't worry, there are endless ways to enjoy the cold and snow such as snowshoeing, ice-skating, or even dog-sledding!
Ski hills begin opening their runs mid-November and remain open until mid-May. In the weeks surrounding Christmas and New Years, it tends to be very busy with high hotel prices. January and February bring bitterly cold temperatures, so consider March or April as there is still loads of snow without the extreme temperatures.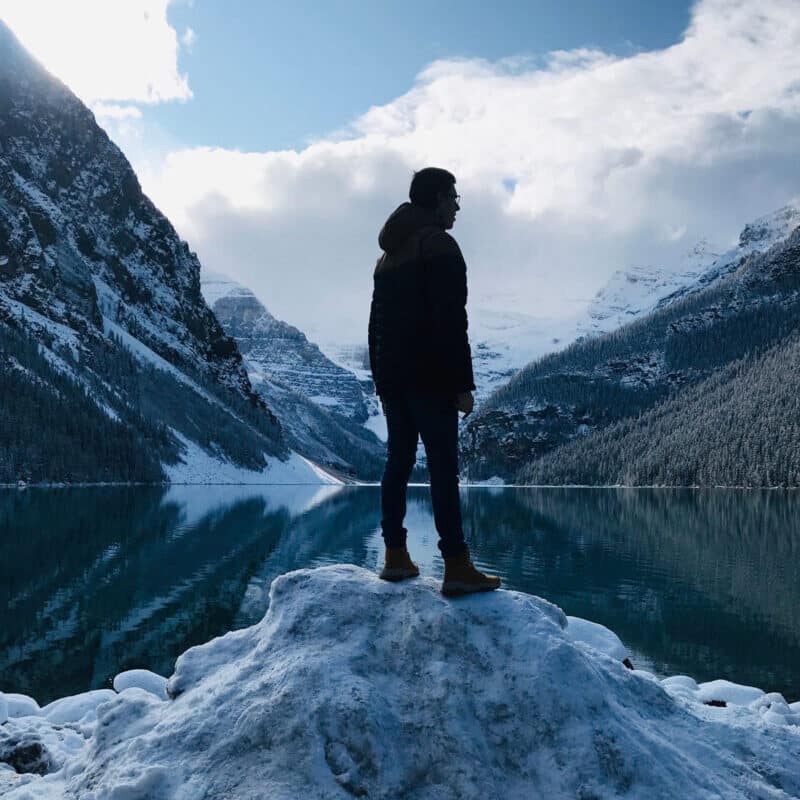 SHOULDER SEASONS (March-May; September – October)
Weather
The in-between season can offer a perfect alternative to the extremes of the winter or summer seasons. In the spring, the mountains are still capped with snow, everything is lush and green, and the bears are awake and active after a long winter rest. In the fall, the landscape of varying hues of green transforms into a mosaic of autumnal earth tones – yellow, red, and oranges give the impression of one last exuberant hurrah before it is once again buried in snow.
The temperatures are cooler in these months and the chance of rain slightly higher. Certain attractions may not be open – for example, Moraine Lake does not open until the end of May, and Lake Louise is not fully melted normally until the first week of June. Take these changes into consideration when planning your itinerary.
Activities
At the end of May and early June, lower elevation lakes begin to thaw meaning some paid activities are open for business, such as boat tours on Lake Minnewanka or Maligne Lake. Campgrounds begin to open in late May.
Most activities can be enjoyed through September, and many paid activities stay open until mid-October. In the fall, temperatures are cooler and are perfect for hiking.
All of that to say…
There is really no bad time to visit the Rocky Mountains. Each month and season offers unique experiences and breathtaking views.
Really, there's no time like now! Book your trip on our Rockies tour page or use the season filter on our tours page, and let us take care of the planning while you experience the radical beauty for yourself.
Written by Katrina Martin | Photos courtesy of Lisanne Smeele and Noel Hendrickson